Bianca Andreescu, the versatile Canadian tennis professional, has carved a remarkable niche for herself since commencing her career in 2017. The pinnacle of her success came in October 2019 when she secured the No. 4 spot in the WTA singles rankings. Known for her prowess on fast surfaces, particularly excelling in hard-court games, Andreescu has not only clinched three WTA Tour singles titles but also etched her name in history with a stunning grand slam victory at the 2019 US Open.
A Glimpse into Bianca Andreescu's Career
Born on June 16, 2000, in Mississauga, Ontario, Canada, Andreescu's journey in professional tennis is a testament to her dedication and skill. The daughter of Nicu and Maria, who migrated from Romania to Canada in 1994, Bianca initiated her tennis journey in Romania before continuing her training upon returning to Canada.
Her early victories, including triumphs at the Les Petits As tournament in France in 2014 and her debut international junior championship after moving to Toronto, showcased her rising talent. In major junior tournaments, she reached the semi-finals at the US Open in 2016 and the Australian Open in 2017, elevating her to an impressive third place in the junior rankings.
Professional Ups and Downs
Andreescu transitioned to the professional circuit in 2015, swiftly breaking into the top 300 world rankings by 2016. However, the 2018 season saw only a minor improvement of four positions. The turning point occurred in 2019 when she embarked on a phenomenal run, winning titles in Auckland, Newport Beach, and a historic triumph at Indian Wells, defeating top players like Garbiñe Muguruza, Elina Svitolina, and Angelique Kerber. The pinnacle of her success came with victories at the WTA 1000 in Toronto and the US Open, both against Serena Williams.
Health issues kept her out of the entire 2020 season, but she made a comeback in 2021, showcasing resilience with notable performances at the Australian Open, Melbourne, and Miami. In 2022, despite initial struggles, she demonstrated adaptability by reaching the quarterfinals at Rome WTA 1000 and impressing on different surfaces.
Recent Performance Highlights
In 2023, Andreescu faced a challenging start with setbacks in Adelaide, Melbourne, and Dubai. Despite injury-induced pauses, she exhibited resilience in Hua Hin, reaching the semifinals. An ankle injury in Miami forced her to retire, but she made a spirited return in the Madrid Open. The Rome tournament saw her reaching the second round, underscoring her determination.
Grand Slam Records and Achievements
Every athlete aspires to secure a grand slam trophy, and Andreescu is no exception. Her performance statistics in major tournaments, including reaching the Round of 16 at the Australian Open in 2019 and 2021, and the semi-finals in 2023, highlight her consistency and competitive spirit.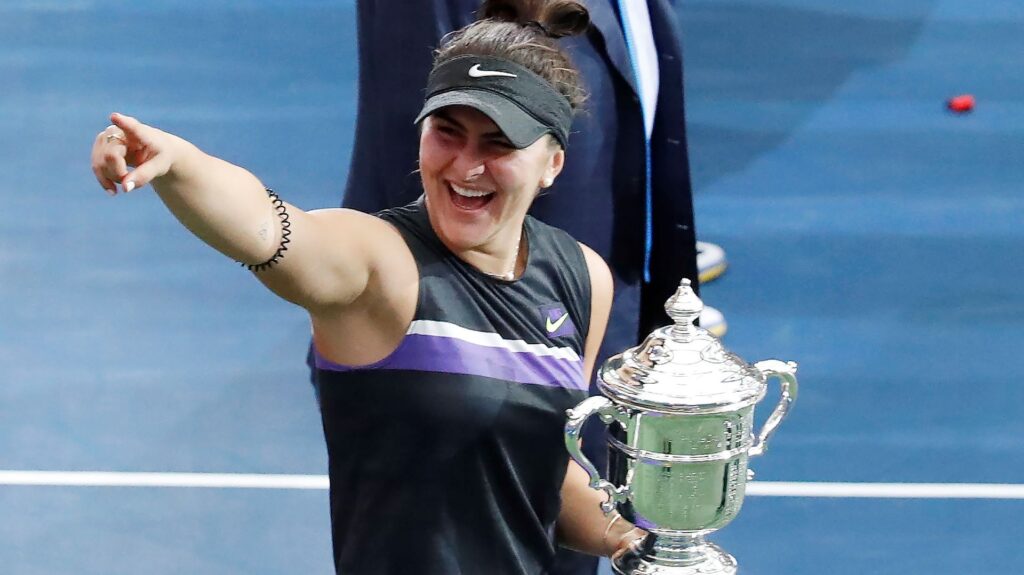 Bianca Andreescu's Sponsors – Powerhouse Collaborations
Andreescu's financial prowess extends beyond prize money, with a roster of reputable sponsors contributing to her thriving tennis career.
Nike: A global sportswear giant, Nike's association with Andreescu goes beyond endorsement, symbolizing a partnership rooted in innovation and inspirational marketing.
Head: Renowned for sports equipment and clothing, Head aligns with Andreescu's commitment to precision and excellence in racquet sports like tennis.
Rolex: The collaboration with Rolex transcends timekeeping, symbolizing timeless elegance and a mutual pursuit of achievement.
Cadillac: As an American automobile luxury brand, Cadillac's association with Andreescu reflects sophistication and performance both on and off the court.
Sleep Country: A Canadian mattress and bedding retailer, Sleep Country champions comfort and well-being, offering a unique partnership beyond the athletic realm.
Financial Snapshot – Prize Money and Net Worth
In 2023, Andreescu earned a commendable $340,726 in prize money, contributing to her total career earnings of $8,538,189, as per official WTA records. Her estimated net worth stands at an impressive $10,000,000, reflecting a multifaceted financial landscape.
Ranking Among Tennis Peers
In a competitive landscape, Andreescu's achievements are noteworthy. While she holds the 31st position in prize money among her peers, her influence extends far beyond rankings, solidifying her status as a key player in the tennis world.
Frequently Asked Questions
Age: Born on June 16, 2000, Bianca Andreescu is currently 22 years old.
Height: Standing at 1.70 m (5 ft 7 in), she showcases a dynamic presence on and off the court.
Birthplace: Mississauga, Ontario, Canada, is the birthplace of this skilled Canadian tennis player.
Best Ranking: Andreescu achieved her highest WTA ranking at No. 4 in October 2019.
Professional Debut: Her professional journey commenced at the ITF Tournament in 2017.
Sponsorship: Supported by Nike, Head, Rolex, Cadillac, and Sleep Country, Andreescu has established impactful collaborations.
Total Titles: The talented tennis player boasts three WTA singles titles in her accomplished career.
As Bianca Andreescu continues to make strides in the world of tennis, her financial success, coupled with a dedicated fan base and prestigious sponsorships, positions her as a force to be reckoned with on and off the court.